1. Remembrances - April was the Anniversary month of two of our 1/83rd Brothers who did not make it home from Vietnam.
April 13th was the 47th Anniversary of the death of both Clifford Earnhardt, a Veteran of A Battery (1969-70) and Larry Francis, a Veteran of Service Battery (1969-70).
More on Clifford and Larry can be found on our website.
May is the Anniversary month of one of our 1/83rd Brothers who did not make it home from Vietnam.
May 18th will be the 48th Anniversary of the death of our Fred (Doc) Paddleford, a Veteran of HQ, A and C Batteries (1968-69). More on Doc can be found on our website.
Lest we Forget.

(Rubbing from the Vietnam Memorial)


(Rubbing from the Vietnam Memorial


(Rubbing from the Vietnam Memorial)
2. National Vietnam War Veterans Day - In case you missed it, here is the VVA News release on this subject.
3. All Gave Some and Some Gave All - a very good video made by Michigan Vietnam Veterans and sent in by Greg Sachnewycz (70-71).
4. Honor Flights - Greg Sachnewycz (70-71) sent this info.
"Hi Bill,
At my VVA chapter meeting a guest speaker talked about the "Inland Empire Honor Flights" Her "Hub" area consists of parts of Southern California. Her group is funded by many corporate and individual donors including Gary Senise, movie and TV actor.

Her Hub has sponsored flights on Southwest Airlines for vets to visit Washington DC for about 3 days and view the various memorials dedicated to veterans. Right now they are concentrating on flying the remaining living WWII vets, which will be followed by Korean War Vets, and then by Vietnam War vets, and so on. There is a long waiting list so she suggested getting on the waiting list sooner than later. Everything is paid for and the net cost to the vet is $0 [except perhaps getting to and from the airport].

I thought I would pass this on in case anyone is interested in signing up with their nearest "Hub". Some states have one hub while other states have several hubs. For Vets in SoCal her website is... http://www.honorflightie.org/
For Vets in other parts of the USA the national website is... https://www.honorflight.org/ "
5. Vietnam Veterans Memorial 2017 Reading of the Names - Registration is now open.
As part of the 35th Anniversary Commemoration of the Vietnam Veterans Memorial all of the more than 58,000 names will be read from Tuesday, November 7, 2017 through Friday, November 10, 2017. A few of us volunteered in 2012 to read the names when it was the 30th Commemoration and it is a wonderful experience to be part of. If anyone will be in DC at that time and is interested in volunteering, more info can be found at this link.
6. Eligibility for VA Burial - VA's new pre-need eligibility determination program allows you to find out in advance if you are eligible for burial in a VA national cemetery. Click here for more details.
7. DD214 SPN Numbers - Tony Georgakis (70-71) sent this info, something I was never aware of.
"On a DD214 is an SPN (separation number)… sixth line down from the top. That number/code/shorthand was used by subsequent parties (reserve units/finance/recruiters) for various purposes. In short it was thumbnail account/reason as to why the guy was getting out of the service. Click here to see the codes."
Tony also sent this link.
8. Veterans License Plates - Ron Sims (70-71) sent along the following suggestion.
"Bill, I know we are all feeling pretty sad since several of our comrades have recently died. So without trying to be inappropriate I thought I would try to add a bit of fun for us. Most states in the US have veteran license plates and it might be fun to have our members send us photo's of their veteran plates and we can post them on our website. I will start off with mine from Virginia".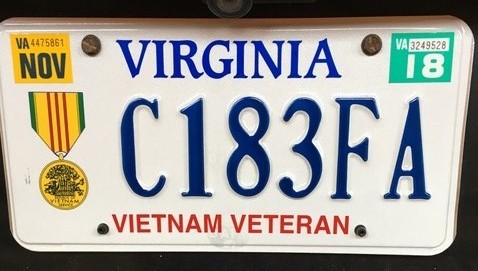 I will add a section for this if you guys want to send me photos of such plates from your state.
9. 1/83rd Website - Please let me know if you come across any links in my website that are broken. With so much content, it is inevitable that links go out of date so let me know if you find one that does not work.
10. Full Roster on Website - Check your entry on the Full Roster to make sure all your information is up to date. Notify me if any changes are necessary. If your email stops working, I cannot reach you if you have incomplete or incorrect contact details on the roster.
11. Support - Please let me know if anyone of you or your family have health situations so we can let everyone know of the need for our support.
12. Please remember that all contact info that we have for our group can be found on the Full Roster. This is the best spot to start if you need to contact one of the group.
13. Reunion News - Mike Reetz (66-67) has agreed to plan and organize our next Reunion. When and where to be determined. Mike's contact info can be found on the Full Roster if you have any questions.