1. Remembrances - June was the Anniversary one of our 1/83rd Brothers who did not make it home from Vietnam.

June 25th was the 46th Anniversary of the death of our Wayne Murphy, a Veteran of HQ Battery (1970-71). More on Wayne can be found on our website.

Lest we Forget.



(Rubbing from the Vietnam Memorial)
2. 2018 Reunion - Mike Reetz (66-67) has advised that the next Reunion is tentatively planned for October 2018 in San Antonio, Texas. More details will be provided at a later date.
Mike also said...
"There were a couple of fellows that offered assistance with the Reunion who live in Texas. If anyone would like to help at the reunion, they can call me."
Mike's contact info can be found on the Full Roster
3. Veterans License Plates - Ron Sims (70-71) sent along the following suggestion a couple of months ago..
"Bill, I know we are all feeling pretty sad since several of our comrades have recently died. So without trying to be inappropriate I thought I would try to add a bit of fun for us. Most states in the US have veteran license plates and it might be fun to have our members send us photo's of their veteran plates and we can post them on our website. I will start off with mine from Virginia".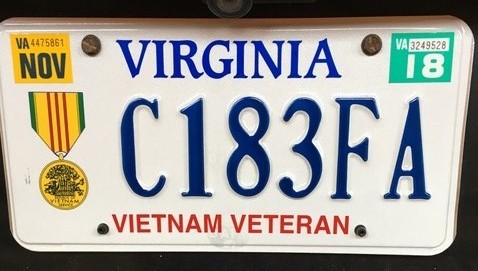 I only received 3 license plate photos so it's not worth doing this at this time. If more photos are received I will consider adding this new section. The ball is in your court now guys if you want to do this.
4. Hepatitis C News from My HealtheVet - Click here.
5. Vietnam Veterans Memorial 2017 Reading of the Names - Registration is now open.
As part of the 35th Anniversary Commemoration of the Vietnam Veterans Memorial all of the more than 58,000 names will be read from Tuesday, November 7, 2017 through Friday, November 10, 2017. A few of us volunteered in 2012 to read the names when it was the 30th Commemoration and it is a wonderful experience to be part of. If anyone will be in DC at that time and is interested in volunteering, more info can be found at this link.
6. 1/83rd Website - Please let me know if you come across any links in my website that are broken. With so much content, it is inevitable that links go out of date so let me know if you find one that does not work.
7. Full Roster on Website - Check your entry on the Full Roster to make sure all your information is up to date. Notify me if any changes are necessary. If your email stops working, I cannot reach you if you have incomplete or incorrect contact details on the roster.
8. Support - Please let me know if anyone of you or your family have health situations so we can let everyone know of the need for our support.
9. Please remember that all contact info that we have for our group can be found on the Full Roster. This is the best spot to start if you need to contact one of the group.